"I have been driving from Hamilton to train my 2 German Shepherds, Chico and Dallas, for approximately 8 years. I have been involved with dog training all my life as my father taught obedience classes at different clubs and kennels. Because of this, I am very familiar with many of Ontario's top trainers, obedience judges, kennels, and clubs. I won my first High in Class and Junior Handler trophy with a Sheltie at age 12.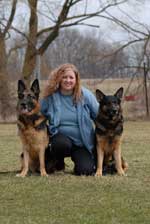 I met Dennis when I purchased my first German Shepherd, Chico that I wanted to train to his Obedience Trial Championship. Dennis was teaching an advance obedience class at the kennel where I purchased him. I was extremely impressed by his knowledge and the way he interacted with dogs of various breeds. His calm, motivational approach made for happy, precise working dogs that were having fun! This was exactly what I was looking for!
Over the years Dennis has been invaluable helping me put a CD, CDX, UD and finally obtain my Obedience Trial Champion with Chico.
Dennis helped me through many problems and never failed to amaze me with his expertise. If one solution didn't work, he had 20 more ideas under his hat and we would keep at it until the problem was solved. I never had a problem he COULDN'T solve!
I was lucky enough to obtain numerous High in Classes as well as a High in Trial while competing for our titles. All our hard work and dedication had paid off! Dennis proved to be as loyal and dedicated to me as I was to my dog. He was with us every step of the way and even came to the shows to cheer us on.
The very best thing about training with Dennis is he is not afraid to share his knowledge. In fact, he WANTS you to learn why his techniques work. This is quite different from most training facilities where they don't want to share their "secrets" but instead just teach the techniques and leave you wondering, "Why did/didn't that work?"
Dennis is my mentor and I strive to be as good as he is one day. I have learned more with him in the past 8 years then I have in a lifetime with other trainers. I will always train with him and look forward to competing in numerous dog sports with all the great dogs I'll have in the years to come."
Michelle Boucher